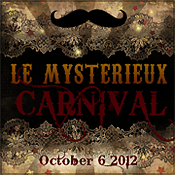 Your Walking through a dark woods
The autumn breeze blows in the trees
you hear the crunch of leaves behind you on the path
Is it a monster,a vampire,some unspeakable evil
You brace yourself....
WELCOME...To Le Mysterieux Carnival!
its true there maybe a few creatures of the night
lurking in the shadows!...
But also the magical sound of carnival rides
music in the air,candy floss,fortune tellers,twinkling
fairy lights & jack o lanterns,Halloween magic!
and booths of Echanting things!x
All you need is a silver ticket!
please visit there webpage via the picture link above
or in side column x
Although I just join myself today! Ive been thinking
about it for a couple of weeks AND SO INSPIRED A
FEW IDEAS Ive been working on. Including some
clay dolls I am putting
finishing touches to like adding hair,clothing and
maybe a bat or jack o lantern. I Would love to hear
your thoughts x